Illinois State TT Championships
September 5, 2009 – Harvard, IL
Masters 30-34 – 3rd – 42:11.58
281 watts – 26.3 MPH
The Illinois State TT Championships crept up on me this year at just the wrong time.  Two weeks ago, I was totally motivated for the ABR Midwest TT Championships.  Now, I just wanted to work on remodeling the bathroom. Oh, well, I was still going to race whether my mind was into it or not.
I've done the past three state TT championships and they've had great weather and stiff competition.  The races are held on the familiar Harvard 33K TT course. This helps those of us who race this course several times a year.  We know the turns, the hills, and where we get crosswinds. Ironically, my experience with this course is the one thing that I had going for me this year.
This was my first time racing the 33K course this year, but I had done the 20K Harvard course twice back in August.  I knew that the headwind on the finishing stretch would be tough. This experience probably saved my performance for the day. My start came and went and I just couldn't get into a groove. The return trip just sucked. Talking with other guys at the finish, we all hated the the stretch from Mile 15 to 16.  It just seemed to have the right incline, with the right amount of wind, at the right time during the race to make things more challenging than normal. My speed seemed to drop to zero.  Thankfully, this wasn't a long stretch and probably motivated the stronger riders to push it towards the finish.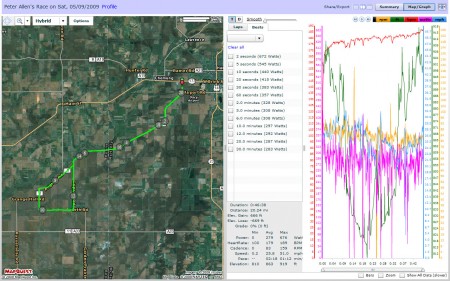 I knew I had a respectable time, but mentally I just wasn't there.  Such go TTs. I was bummed, because I was in pretty good physical shape, and a little disappointed with my performance at the ABR championship a couple of weeks before. Well, my time was good enough for third in the Masters 30-39. In some ways, I feel good about this placing as all of the 30 year olds were included in the same division, unlike years past.  I was really happy to see some outstanding performances from other racers.  Many guys gave it 120% today. I won't get into names, but you know who you are.  In fact, some of the best performances came from guys with some TT equipment (eg, aerobars and helmet), but not decked out like us TT nerds. That speaks volumes to how those guys train and lay it down when it really matters. It's performances like those that get me more motivated for next year.
Also, a special thanks to North Branch Cycling for also hosting this event. They do a great job every year and it's appreciated in a sport that tends to be more obsessed with NASCAR on bikes (aka, crits).
OK, before I go, I want to comment on one topic before I finish up. The weirdest thing about this race was looking over my TT bike a few days later.  Turns out moron here had threaded the chain over one of the rear derailleur guards rather than the pulleys.  Oh, well, it probably only cost me a few watts. Props to SRAM for making some new carbon fiber rear derailleurs.  There was no wear to the rear derailleur cage at all!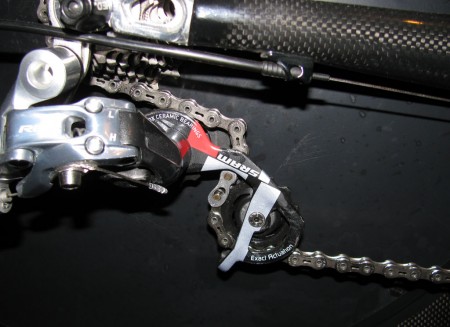 Hopefully, I'll be a little bit more motivated next year and remember to put my chain on the right way…:)