Since Rose and I were going to be in southwestern Wisconsin for Father's Day, I decided to look for a century or other noncompetitive event for both us to ride together.  I found a new event being held in Montfort called the Panther Dash.  It featured a true road race (part of the WISport series) and a noncompetitive fun ride.  There were several courses to choose from, but Rose and I opted for the 30 mile "flat" route. This would be her first time on the open road with her new bike and my legs were fried from the day before.
After reading about WISport events, I was expecting about 200 riders. Well, I guess Father's Day put a damper on participation.  There were less than 100 riders for all of the events.  I felt bad for the organizers, since they went out of their way to create a big event.  Plus, the weather was great for riding.  Upper 70s, overcast, and a few sprinkles. The staging area was nice with plenty of parking and there were lots of great volunteers. Here's Rose before the ride.
The fun ride started about 10 minutes after the race. It was kind of funny at the beginning since none of us knew the route through town.  Thankfully, Montfort only has about 500 residents, so it only took about 3 blocks before we found the route out of town.  Although this was a "flat" course, we immediately realized that this wasn't Chicago "flat".  There was a good 200 foot climb within the first few miles.  Well, we didn't need to climb it.  Genius here got over excited and followed the riders ahead.  Yep, those were "racers", not "riders".  Here's a photo of Rose on the climb.  She didn't care we made a wrong turn, because she was having fun.
The hills never seemed to end, but at least they weren't long.  Here's Rose (still smiling at the top of another hill). The scenery was wonderful. We got a few sprinkles, but were enjoying the lush green countryside.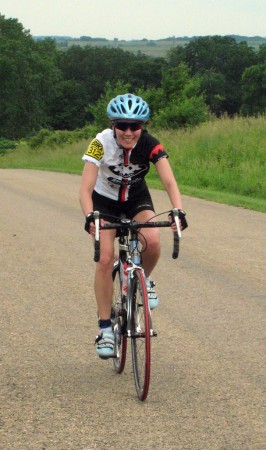 The route took us around the Alliant Energy wind farm between Cobb and Montfort.
Here's the welcome sign outside of Montfort just before the finish.
The overall route was about 30 miles.  We had about 3000 feet of total climbing. Rose was pretty exhausted at  the end, since this was her longest bike ride.  I don't blame her.  It's amazing how you get used to the wind and flats and think you're in shape, then tackle the rolling terrain of Wisconsin. We were both really enjoyed the ride and made for a fun Father's Day weekend.
Panther Dash Ride at EveryTrail