ABR Midwest 30K TT Championships
August 22, 2009 – Garden Prairie, IL
Masters 30+ – 3rd – 42:11.58
290 watts – 26.3 MPH
"Turnaround…" For some reason, I got Bonnie's Tyler's 80's hit "Total Eclipse of the Heart" stuck in my head after my race today. You know, that one that goes, "Turnaround, every now and then I get a little bit lonely and you're never coming around." What? It's now stuck in your head. Well, don't blame me. Actually, I have no one to blame but myself for blowing the turnaround at the ABR Midwest TT Championships today and missing out on first.
I've ridden the Garden Prairie course several times before, but primarily as a 40K course. The turnaround, whether it's a 30K or 40K, is "normally" about a half mile down Harmony Riley Rd from the I-90 overpass. Notice, I said "normally". This was a classic case of why you always check for course changes before your race no matter how many times you've ridden the course. Even in last year's race, the turnaround was at the base of the overpass. See what you get for just assuming things are the same!
I was really jacked for this race, since I would have had about a month between the Double Bong TT and the IL State TT championships. Not that I want to race TTs every week, but they can make a big impact on your training. This last minute addition to the race calendar was a nice surprise. Work had been stressful the week before and my training had been pretty lousy. This was a good chance to unleash some anger on the course.
The weather was great for racing. Temps were in the mid-60s with partly cloudy skies. The wind wasn't too bad. It was 10-15 MPH out of the NW, which only made for a mentally challenging return trip. My plan was to go steady on the way out, then hammer on the way home. I got a good warm-up in and my legs were set to go from the start.
I usually don't go bonkers with my effort when I have a tailwind, but I found myself right at threshold power on the way out. I was pleasantly surprised, because I tend to be mentally stronger with a headwind. Coming up to the I-90 overpass, I was a little confused about why there was a course marshall at the top of the bridge. Hmmm. I blew past the cones, but slowed to try and hear what he was saying. Oh, that's the turnaround! Crap. I was in 54-16 and had to turnaround, then grind my way back uphill. I wasn't in a bad mood, since I didn't think I would be racing for first in my category. I even joked with the marshal that I was just going for "extra credit". Yep, well, had I known how close I might have been at the end…
My ride back was fairly strong. I might have gone out a harder than I anticipated, since I saw a slight drop in power. The return trip was entirely a mental game. The wind wasn't too strong, but I could tell some racers might have given up since it was enough to demoralize you. I ended up crossing with a time of 42:11.58. I was hammering the last couple of kilometers because I wanted to break 42 minutes. Had I not screwed up the turnaround, I probably would have. Oh, yeah, so how much did that turnaround affect me?
I thought a visual explanation might make things easier to understand…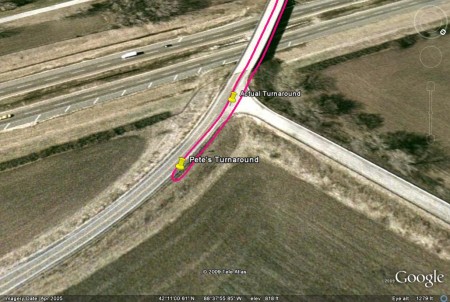 Here's s a Google Earth photo of my turnaround based on my GPS. The real
turnaround was at the intersection at the top of the overpass. You'll see how
I totally missed it by about 100 m. Now, how much time did I lose?

When Jeff Holland and I rode the 40K Garden Prairie course back in May,
our turnaround time was 8 seconds. This is about average for TT turnarounds.

My turnaround for today's race ended up being nearly 30 seconds,
since I went a little farther than I was supposed too.
The Top 3 placings in the Masters 30+ category was closer than I thought. Michael Stevens and Brian Akers were only about 10-15 seconds in front of me. I don't know if they botched the turnaround as well, but it makes me more frustrated that I didn't check the course map before the race. Still, I'm happy with my performance and am always happy to have TTs in the Chicago area. I also had a blast with my new Hed Corsair bars and Hed wheels. Talk about awesome bike components!
The best thing about the day was seeing several other XXXers out on the course. Our top coach, Randy Warren, seems to defy age and finished second in the Masters 40+ despite having no TT training this season. Chris Kinonen placed third in Cat 3 despite just having clip-on aerobars (the guys ahead of him were completely aero with disc wheels and TT bikes). And, our new junior Kyle Mindick got fifth despite just riding "Eddy Merckx" style with NO aero gear. A great team showing.
So, just remember to check the course map before your race or you might end up with Bonnie Tyler in your head.