Belgian Waffle Ride (BWR) Utah – The Wafer
September 25, 2021 – Cedar City, UT
Overall – 63rd – 5:42:41 Elapsed, 5:18:08 Moving
84 miles – 3,793 feet – 15.8 MPH
So, I had never planned on doing BWR Utah this year. I had originally registered for the full 2020 BWR Waffle in San Diego, Well, we had this thing called the pandemic and it got postponed until 2021. You'll see in the previous post that I kind of broke my elbow in March. There goes San Diego in May. Thankfully, they let me transfer my registration to BWR in September.
Now that I was go for Utah, I decided to make this more than just a trip for a bike race. I've driven through Utah before, but I had never stopped to see any of the national parks like Zion and Bryce Canyon. BWR Utah was being staged from Cedar City, which is close to both Zion and Bryce. Time to take a week off of work and have a real vacation!
I went into BWR with the mindset that I was just going to have fun. I opted to do the shorter Wafer vs the full Waffle, since I didn't know how well my elbow would respond to that much off road. The Wafer in Utah is no slouch. It's over 80 miles and about 75% off road. I was excited, since this was going to be a true "gravel" event. Cedar City is at 6,000 ft, so I knew altitude could be an issue. Thus, I got there a couple of days in advance to acclimate to the thinner air. The weather was also a question mark. It was forecast to be in the upper-40s at the start, but sunny and in the low-70s later in the day.
I stayed at an AirBnB about 3 miles from the start, so I had a perfect warm-up. I didn't feel it was that cold out, so I opted for just a long-sleeve baselayer. The nice thing about BWR Utah is that it's not as crowded as San Diego. The starting area seemed much more laid back and racers were chatting with each other beforehand. Once the race started, we had about 4 miles of pavement before we turned into the first gravel section. I didn't go all out at the start like some people. I wanted to get to the first gravel section quickly, but not when it was super crowded. I had brought my GoPro to record my ride, but unfortunately it locked up right after the start without me knowing. I lost about 1 hour of uneventful footage, so it was no big deal. The rest of the ride is what is really interesting.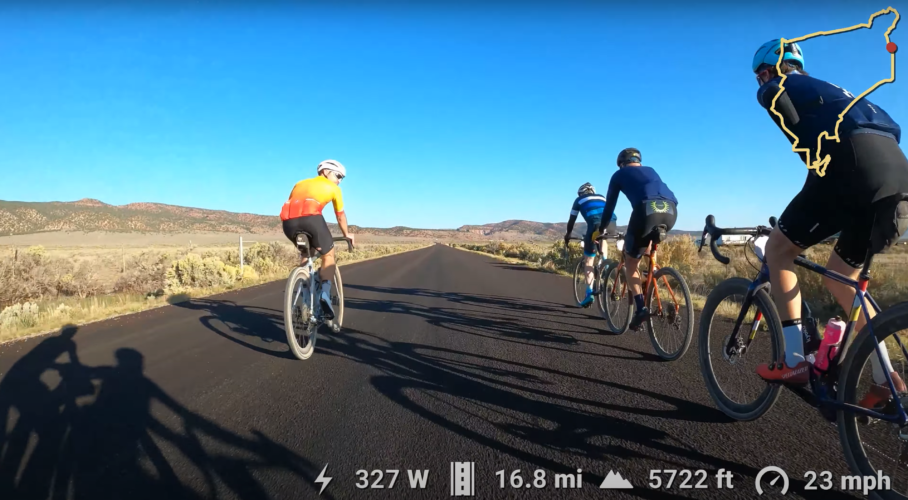 When we hit the road again, there was a group of us that started working together a little. We were able to pick up some decent speed. The next gravel sector was Ronde de Rode Heuvels at around Mile 19. This was real Utah dirt…red in color and rough in places. This sector was a longer one and included the only extended climb of the course. It was a little over 2 miles with a 3% average. Not exactly a killer, but people really started to pop. Maybe they want out too hard. For me it was opposite, I flew up the climb and took it extremely easy on the downhill. I really didn't want to crash on a still fragile elbow.
The first aid station came around Mile 29. The weather was warming up, and the dry air made me thirstier than normal. I definitely hydrated and refueled here. The next several miles would be rolling gravel where I could really start to push the pace and make up some time. This sector was appropriately named Rollers for Rouleurs. People were getting worried about a headwind in this direction, but nothing that strong materialized.
Things got interesting at one point along De Ruige Kale Heuvels. Yes, there were the cattle guards, which I opted to walk over vs ride. But it was the deep sand that was giving people fits. This is best captured in my YouTube video. I have no trouble riding in sand most of the time, but when it gets deep I'll go down if a wheel washes out. That happened to me once and I thankfully landed in the chaparral vs a cactus or rocks.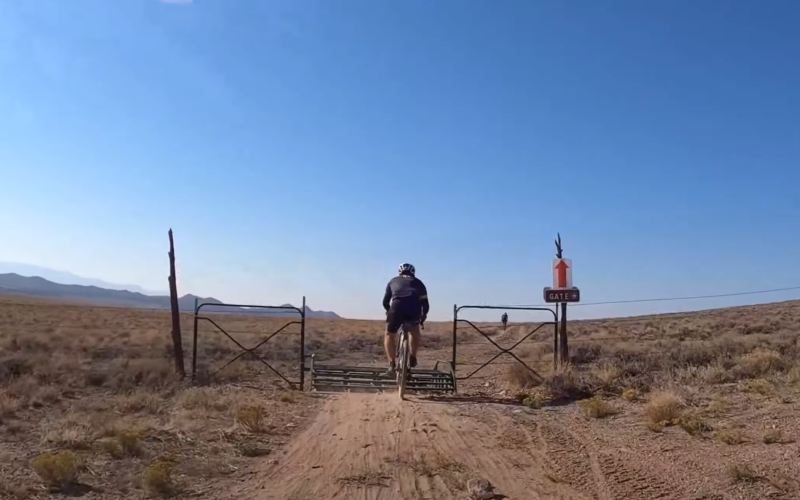 Our second aid station came shortly after at Mile 50. I was actually feeling pretty good at this point having hydrated well thus far. The Wafer and Waffle would soon split at Mile 53. While I was bummed not be doing the Waffle, I knew the Wafer was the right fit for my current fitness. The next several miles were pretty meh…aka, nothing worth commenting about.
Now for the The Tolweg, 4 miles of mostly rocky single track. I had watched videos on YouTube from the 2020 BWR, so I knew what this sector had in store for us…sort of. I'll just say that this sector would have been no big deal on a MTB or even with my gravel bike and my 650B wheels. With my current setup and nervousness about my elbow, this section of the course was especially troublesome for me. I ended up walking some sections that were just way too rocky to my taste. About 2/3 of the way through the Tolweg, my rear wheel slipped out and I crashed on my right elbow (captured in the video below). Damn. I could feel pain shooting up from my elbow. I got up and thankfully the pain immediately quieted down. My bike was OK, so I just went on my way.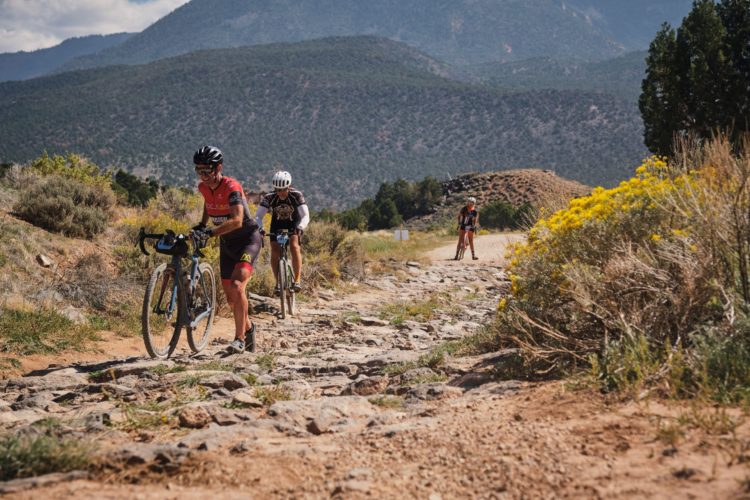 The last several miles were a last minute detour by the race organizers and I got turned around at one point. I just had to backtrack to the course. I was pretty spent by the time I finished. I had the fitness, but I think it was the mental toll combined with the dry and altitude.
Overall, I was really impressed with BWR Utah. It had the atmosphere of the San Diego event, but without the crowds and pretty much the whole thing was dirt. I definitely want to do this one again in the future!